Youth petitioners take fight for global climate change action to the United Nations Committee on the Rights of the Child
SEPTEMBER 23, 2019
New York, NY — Today, 16 young people from around the world submitted a groundbreaking legal complaint about climate change with the United Nations Committee on the Rights of the Child. Their petition shows how five regional leaders and G20 members — Respondents Argentina, Brazil, France, Germany, and Turkey — have known about the risks of climate change for decades. Despite that knowledge, they are failing to curb emissions, while continuing to promote fossil fuels. The climate crisis was caused and is being perpetuated by the actions and inactions of all states, but without the leadership of the respondents, the global effort to solve the climate crisis cannot succeed.
The youth petitioners are between the ages of eight and 17 and hail from Argentina, Brazil, France, Germany, India, Palau, Marshall Islands, Nigeria, South Africa, Sweden, Tunisia, and the United States. Among the petitioners is Greta Thunberg, a Swedish student climate activist, who sparked a global youth climate action movement through her Fridays for Future school strikes in 2018. Greta is joined by Alexandria Villaseñor, a fellow American activist who co-founded the U.S. Youth Climate Strike. Alexandria, inspired by Greta, conducted her own Friday climate protests outside of the New York United Nations headquarters. The other petitioners are devoted activists and educators in their own right in their home countries.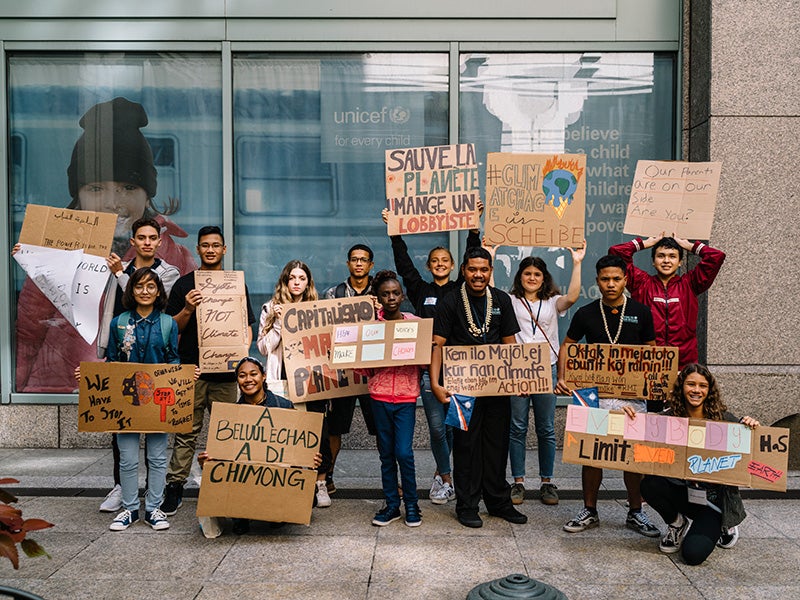 Youth petitioners display their signs before marching in the Sept. 20 Global Climate Strike in New York City.
In making their complaint, the authors narrate the impact climate change has had on their own lives, including brushes with death and loss of neighbors from wildfire or flooding; threats to traditional ways of life such as reindeer herding or fishing; significant health hazards such as dengue fever, malaria, and asthma; hardships from drought, air quality, and poisoned marine life; and mental anxiety or depression about the present and future.
Continue reading at:
16 Young People File UN Human Rights Complaint on Climate Change | Earthjustice